Product Description
All the Hydration Your Hands and Nails Have Been Craving!
The Mega Hydration Kit is the perfect way to get your nails on some massive hydration (while saving money! You'll save over $5.00 off the normal retail price of purchasing the individual items when you get the Mega Hydration Kit).
Because of COVID-19, we are unable to get our pink gloves and have had to transition to black nitrile gloves. Also, we have had to increase our prices due to cost increases for nitrile gloves.
Ana's Overnight Hydration Technique is a healthy nails game changer! This is the perfect solution for nails and skin that are in need of some serious hydration. And let's face it. That includes pretty much everyone!
Just going through a normal day of hand washing, work, home, and well... just life takes a toll on your nails and skin. Now you can get stunning results... overnight!
Here's What You Get
Ready to take the Overnight Hydration Treatment for a test drive on your nails and hands?
1 Simply Pure™ Dropper Bottle - 0.5 oz

(Fragrance Free or Crisp Fragrance)

1 Large Simply Sealed™ lotion stick (Fragrance Free or Crisp Fragrance)

5 Pairs of Black nitrile gloves
These black, nitrile gloves are durable textured and give you a good grip and work with smart phones and touch screens.
Your hands work hard all day. Give them a little extra TLC and enjoy smooth skin and stronger, more flexible nails.
About the Products
Simply Pure™ Hydration Oil 15 ml Dropper

Strong nails BEND, not break. Simply Pure™ oil dropper makes it super easy to oil up for an overnight or mini hydration treatment.
BOOM! You're set up for nail hydration success! The Mega Hydration Kit comes with your choice Fragrance Free or Crisp Fragrance "liquid gold" so you can get the benefit of this jojoba-laden hydration to make it easier on yourself to get the longer stronger nails you really want.
Your choice of Fragrance-Free or Crisp Fragrance hydrating oil.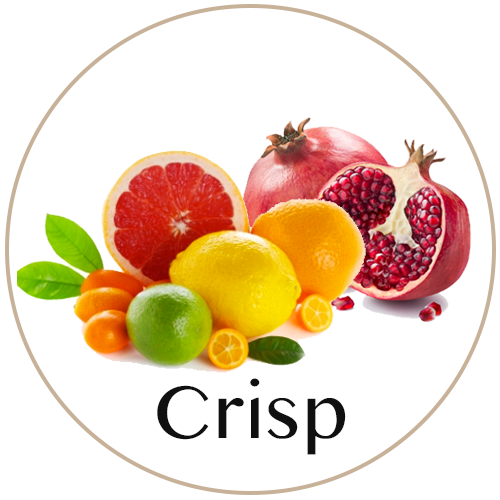 Simply Sealed™ Large Lotion Stick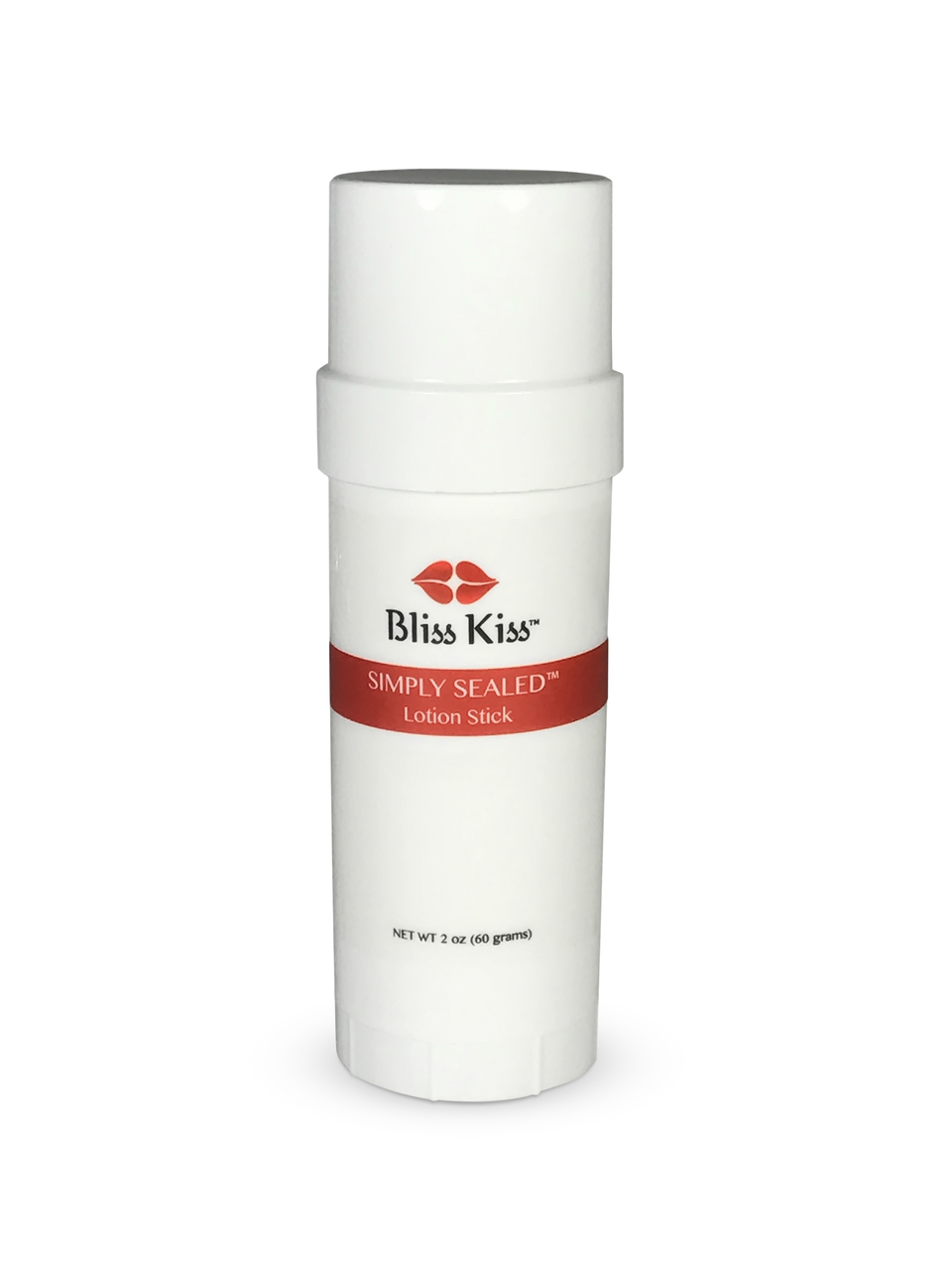 This is the holy grail of all over body moisturizers. Say goodbye to bottled lotion and say hello to this luxurious, uniquely all natural lotion in a stick. Simply Sealed™ lotion stick delivers silky smooth all-over moisturizing goodness into your skin.
This artisan, handmade lotion stick is silky smooth and packed with hydration for your dry, sensitive skin without leaving you feeling greasy.
Our Lotion Stick is especially great to help with psoriasis, eczema, super dry skin from frequent hand washing, working with paper or boxes, and other drying hazards. Plus, SIMPLY SEALED™ adds a protective, water-resistant barrier to your skin!
Your choice of Fragrance-Free or Crisp Fragrance Lotion Stick.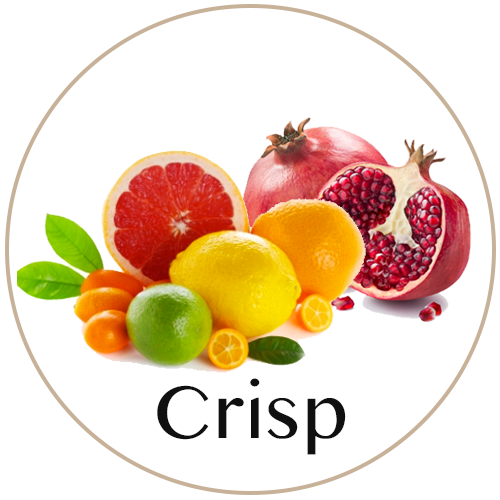 Overnight/Mini Hydration Nitrile Gloves
These nitrile gloves are latex-free, textured and give you a good grip and work with smart phones and touch screens. You'll also notice how surprisingly thick and durable these gloves are, too!
Glove Sizing Help:

*If you are still having trouble deciding, always opt for the larger of the two sizes. Slightly loose is better than too tight!
The Results are Clear
Literally. You will likely see your tips turn clear after a hydration treatment. This is GOOD. Unlike tips clear from being soaked in water where your natural oils that hold the layers of your nails together get stripped away, clear tips after a Hydration Treatment indicate STRONG, FLEXIBLE, HYDRATED NAILS.
Here's what Ana says about clear tips after an Overnight (or mini) Hydration Treatment:
"The oil has penetrated all the way through and turned them transparent. If the transparency had been from water absorption, they would've taken an hour to dry out.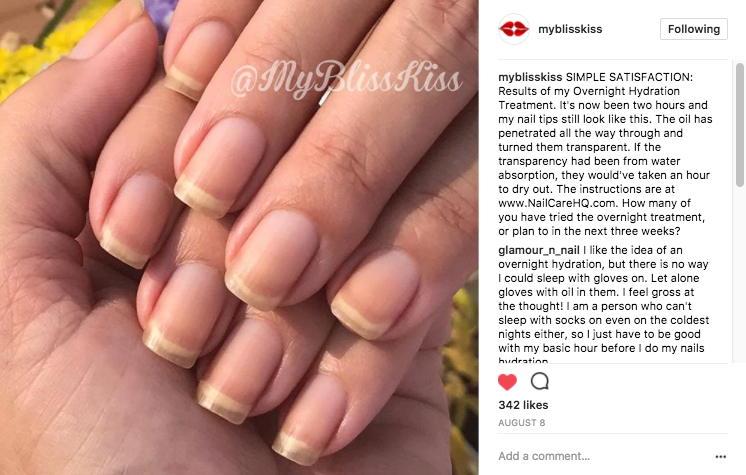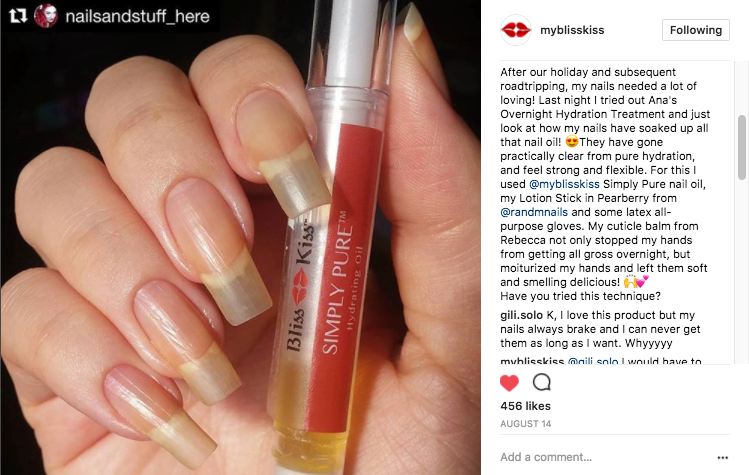 Some people are blessed with it... Now everyone else can get Blissed with it.
Custom Field
Product Reviews
26 Reviews
Loved with everything that came with the gloves are durable and reusable and the oil and lotion stick are amazing

I enjoy my hydration treatments so much! It's like priming a canvas, my nails are always ready to go for a fresh coat of paint and design after moisturizing overnight. I'm am so fond of the crisp scent and the stick is a must for dry, cold winters.

I have heard such good things about this and finally decided to try it. Boy, am I glad I did!

I will actually use these products unlike many others that I have purchased and trashed. The cuticle oil and the lotion stick are excellent. I use the lotion stick throughout the day, and I use both at night. My hands and nails have never looked better.

Love the results I get with this kit!! Sent a Mega kit to my beautician and she is raving about how wonderful her hands, nails, and feet look and feel!!

Probably the 6th purchase I've made of this product, this time for my sister's bday. With the Covid, and us being slightly over 30 now, we need skin care for hands badly! She was really excited for such a simple gift. I've been suffering from a spot of excema on my hand as well so needed some help there too. I reuse the pink gloves for sure, and have even purchased a box if nitrile gloves in the past to use with the oil and lotion stick. So that's where I say quality is top notch but the concept is really incredible too. You could potentially buy some store bought cuticle balm and pair that with Simply Pure and gloves (I do this sometimes cause I buy the large bottle of oil, saving my lotion stick for daily use). My favorite thing is how the gloves come off feeling all oily and wet, but within maybe 5-10min, it all absorbs into the skin. So magical. Great mini-spa sesh for the hands with all the washing and sanitizer happening right now.

I love these products. The "crisp" is a lovely fragrance in products that probably work for many. Sadly my older, weak, ripping , tearing nails are just barely responding. I will continue tho and hopefully continue to have even minor improvement!

Great products!

Absolutely love this pack. I haven't done a mega hydration before and wish I had. What an awesome way to just get on top and replenish those hard working hands.

I can live without this kit but I'd rather not. It feels great on my skin and my nails love it! Everything is always delivered promptly and I'm always excited to get my Bliss on!