Product Description
Make Your Manicure Last Longer!
Strong enough to get the job done, gentle enough to keep your nails and skin safe
One of the secrets to getting your manicure to last longer is to remove the cuticle from your nail plate. MYTH-BUSTING FACTS: We've been taught the WRONG definition for the "cuticle."
The tight band of skin at the base of your nail plate is NOT the cuticle. That band of skin is called the "proximal fold of the eponychium" or "nail fold." The cuticle is actually the thin layer of skin that sticks to your nail plate and pulls away from your nail fold.
When you remove the cuticle from your nail plate, your nail polish will be better able to bond to your nail. Base coat was developed to bond to your nail plate, not to skin. This means, when you remove the dead cuticle skin from your nail, your nail polish will be able to bond directly to your nail. And that's GOOD!
Remove Your Cuticles the RIGHT Way for Healthy Nails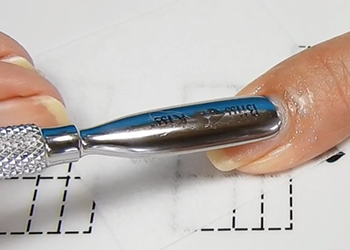 Stainless Steel Cuticle Pusher
You get a Lifetime Guarantee on your 100% Stainless Steel Double-Spoon Cuticle Pusher. The different sized dual spoons on either end of the Cuticle Pusher fits all nail sizes to make it easier for you to gently remove your cuticle.
Just Getting Started?
If you're just getting started in collecting the best tools to remove your cuticle, check out the Cuticle Care Combo Kit package set and save $$$!

Every order comes with a 100% Money Back Guarantee. But that's not enough. We've been bombarded with false miracle claims for decades. You need to see proof.
Product Videos
Custom Field
Product Reviews
This is a great cuticle pusher except the curves on the ends could be better. For the most part I would use the larger end for all my nails and the smaller for my pinky if I happened to pick it up facing that way, otherwise the larger was used.

I love the heavy sturdiness of the tool but it is dangerous when not used properly.

Now I'm hooked on keeping my hands looking clean and neat.

This tool is really something! I had only used my other nails to push back my cuticles every so often, but I got this because I heard good things about it online. I would recommend this just be mindful of how much force you use, because you can damage the skin, I learned from experience going crazy when I first got it oops.

I received this as part of the nail care set that also comes with the cuticle remover, oil pen, and latex barrier. I loved the other 3 items so I've come over to the webpage for this tool only as to not ding the good reviews on the nail care set.

I admittedly did not use this tool properly the first time - I applied cuticle remover to all 10 nails as instructed and let it sit for about 30 seconds before I started working at the cuticles. As I got to my fifth digit the remover had dried up to a very thick paste, so as I was going in with the tool at a 45-degree angle, I thought I was pushing away the remover and dead skin, but I was actually scoring each of my nails with this tool. It forced me to buff each nail down and wait for the regrowth - thankfully I had my Bliss Kiss cuticle oil to help out! I've never buffed my nails in my life until this mistake necessitated it!

Fast forward to my 5th or 6th time using it now, I will definitely say it is a heavy, sturdy tool that MUST be used properly as to not damage the natural nail. The caveats of using metal tools as opposed to gentler wooden tools are valid. Because of this experience I've learned to change a few things when I do my cuticle care:

1. Apply the cuticle remover to one hand at a time instead of both. Allow 30 seconds as opposed to the instructed minute before going in with this tool.
2. Lie the tool FLAT along the nail plate. I cannot stess this enough! Start with the cuticle near the eponychium, and lift and place the tool as you move to each sidewall.

Tip number 2 is why I rate 3 stars. The curve of the tool is great for all my nails except the thumb, where I experienced the most damage and to this day have to be extra careful with. I am tending to lean towards my orangewood sticks for the thumb specifically. Otherwise, I do feel this tool is of good quality and others with different natural C-curves may have opposing opinions - this one is just mine.

Very easy to use as long as you use it properly then you should see results. It's very sturdy so I know it'll last me a very long time!