Product Description
Our Bliss Kiss™ branded nail files are created by Mont Bleu™. They're high quality, crystal files that are made from Czech tempered glass, sometimes referred to as crystal.
The Czech Republic has always been one of the leading countries in glass production, using the oldest production traditions. We can assure you our crystal glass nail files are the best quality available on the market.
When we choose to carry a product by another manufacturer, Ana searches and tests extensively to find the best products to make your life easier. Mont Bleu™ files are her favorite. They have the capability to gently file smooth edges as well as take down length with added pressure.
There are several other features that make Mont Bleu™ crystal nail files better when compared to other nail files.
High Hygienic Standards.

Crystal nail files can be disinfected in many ways, including UV light.

Durable Filing Surface. The Mont Bleu™ crystal nail files have a life-long filing surface that won't wear down like cheaper glass files.
Impeccable Quality. You can feel the difference when you hold one of our Mont Bleu™ files in your hand compared to cheaper glass files. Your nails will feel the difference, too!

Mont Bleu™ files are one of the most durable crystal nail files available.
(PLEASE NOTE: While the files ARE more durable than most crystal or glass nail files, they are STILL breakable when dropped, sat on, or put in other rough-and-tumble situations. We recommend storing them in their provided cases and in a place where they will be protected from breaking.)
About the Case
Each case is crafted from a sturdy, shiny red plastic designed to keep your Simply Crystal™ nail file stylishly snug, safe and sound.
Why plastic? We tested several different types of solutions, including metal. We liked the look and feel of the metal ones, in our rigorous testing of these cases (yes, we actually threw these nail file cases across the room). BUT... the metal cases we tried didn't prevent breakage and just didn't live up to the Bliss Kiss™ quality standards.
The plastic cases were clearly the best solution for light, sturdy protection for the Simply Crystal™ nail files. We love them. And we're positive you will, too. We guarantee it!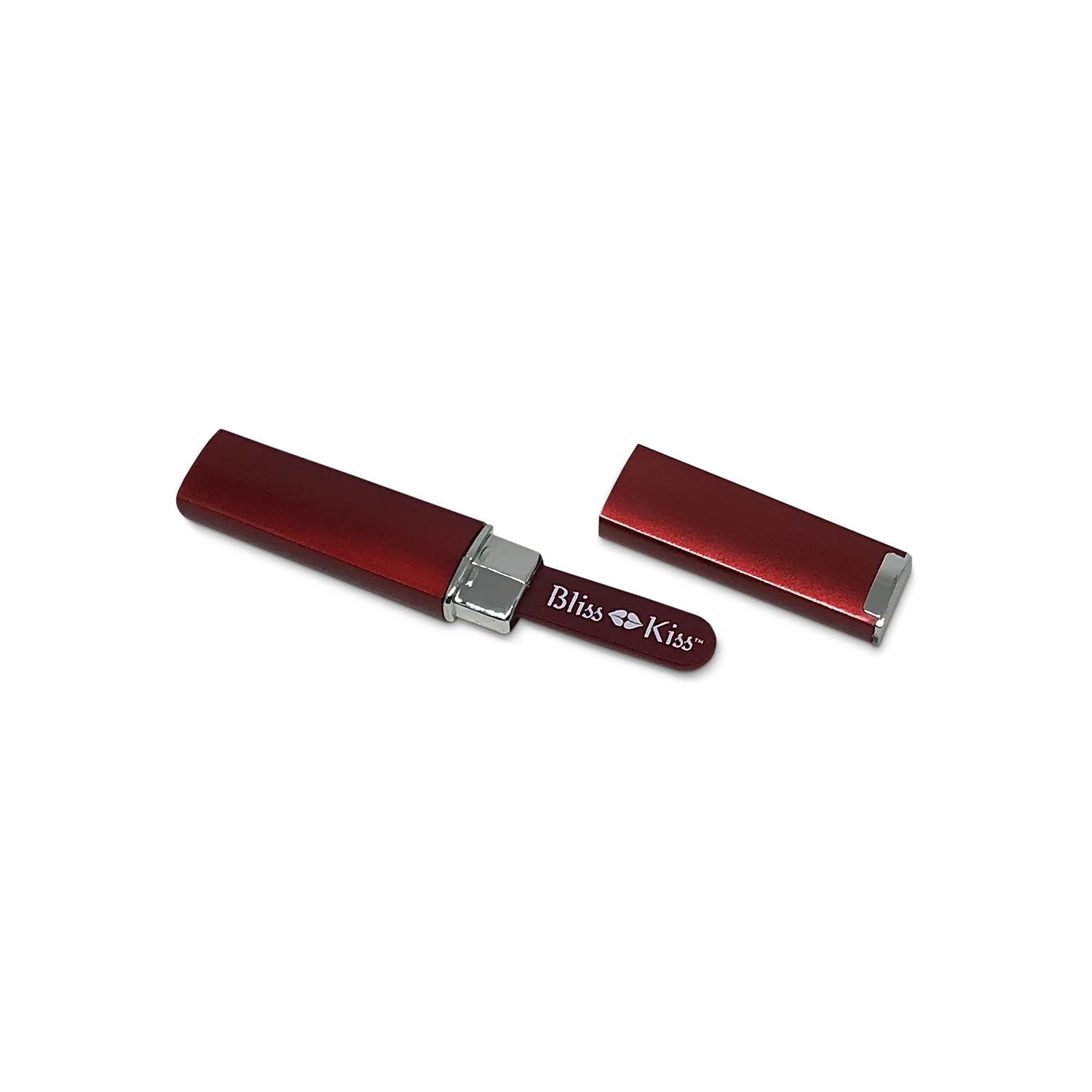 Small File, Large File or BOTH?
If you are looking for the perfect travel size file, our small nail file is the one for you! At 3.5 inches (9 cm) long, our small ruby nail file has the Bliss Kiss™ logo printed on the handle and comes with a black velvet and hard plastic case. The usable filing surface is 2.25 inches (5.71 cm).
You can check out the Large Nail File here!

WE SHIP MONDAY - FRIDAY (except holidays)
Customer Satisfaction is our highest priority. We offer a 100% money back guarantee if you are not fully satisfied with any of our products. We can be reached Monday to Friday 9 am to 4:30 pm PST, through our Contact Us page and we will help with any issues or concerns. We strive to respond within 48 hours on business days only.
IMPORTANT NOTE: While the files ARE more durable than most crystal or glass nail files, they are STILL breakable when dropped, sat on, or put in other rough-and-tumble situations. It's just the nature of crystal - even tempered, high-quality crystal. (As soon as we figure out how to alter the laws of physics to make crystal flexible and unbreakable, we'll figure out how to bring that to you!)
Due to the breakable nature of crystal, we cannot guarantee the nail files against breaking.
But we DO guarantee them for life against the filing surface becoming dull.
(The nail files don't do well when used as hockey pucks, gardening tools, or chopsticks. Also when bringing your file with you in your purse or backpack, put your file in a pocket that will keep your file safe from being smashed or bumped.)
We recommend storing them in their provided cases and in a place where they will be protected from breaking.
NOTE: International orders can take up to 6 weeks to arrive and may be subject to customs charges.
Custom Field
When Life Hands You Chips, Tears & Snags
The last nail file you'll ever buy. When it comes to filing your nails, never settle for anything less than the the highest quality Czech crystal.
Treat Yourself to Bliss!
You deserve it! Whether you just need to gently file your nails smooth or need to take your length down a notch, we guarantee you'll be delighted with our Simply Crystal™ nail files.
A Simple Solution
Ridiculously durable, Simply Crystal™ never dulls and won't wear down like cheaper glass files.
Product Reviews
98 Reviews
I love this nail file, I've had mine for about a year and just ordered my mom one. I won't use an emery board on my natural nail again.

I admit my star rating has nothing to do with the product itself. I ordered this file almost 1 month ago and according to the tracking with USPS its been on an airplane from California since March 2nd....I live in Canada if that means anything. I'll just keep waiting, I guess...

Love this nail file! It's beautiful, strong, works great and travels well. I originally bought myself the large nail file until my boyfriend swiped it (he won't use any other nail file now), so I came back to get a small one to keep in my purse and I'm thrilled with both purchases.

Glass Nail File, Hydrating Oil and Cuticle Kit

I have been using the nail file and hydrating oil since 2015 And have never looked back! I have since purchased a few more nail files for my purse, office, car and night stand. I even like purchase the big bottles of the nail oil and just refill one of my old mini bottles that doesn't even have the label on it anymore. Haha!! I tell anyone about My Bliss KISS that asks me about my nails! I also just purchased the cuticle kit.....why I waited so long to try this is being me! Lol! It totally makes a difference when applying your polish. Thank you, Maria Alvarado

Simply Crystal Nail File-small with case

Love this nail file. It leaves my nail edges smooth and looking nice. Also love the compact size and case. This way it does not get damaged and is easy to carry

Been wanting to try for a long time...

This is the first crystal nail file I've ever used and bought solely on the recommendation of @simplynailogical. I will say that it is much better then an old school traditional nail file but I just wish the entire file was usable instead of just half. In my opinion, they are a bit pricey for a freakin nail file so that's why I only got 1 small one just to try it And only because I received the extra stimulous money. I guess it might be more worth it for someone who does nails all the time but since I don't it's really not a must have.

This is a great product. It soaks in quick and makes my cuticles look so much better. I used to have dry cuticles and the edge of my fingers were always cobered in dry skin that would scratch me or my crochet.. Not since using this oil. I use it every day and I love that it protects my nails even further when I put it on before I file my nails with the glass file which I also love. This oil also makes my nails feel stronger and healthier.

Honestly it's a pretty good product! I think the only thing that's holding me back from giving it a full 5/5 is that it's little carrying case is made from a kind of cheap-feeling material, but otherwise it does it's job well. The file can survive a fall from a desk onto linoleum floors! It's been filing my nails excellently and it hasn't lost its file-ability either. Definitely recommend <3

I love this size for keeping in my purse. I hate when I break an edge off a nail while I'm out and about and then I spend the rest of the day with a finger curled under to avoid getting the ragged edge caught on things. This is now with me all the time! And it works great!