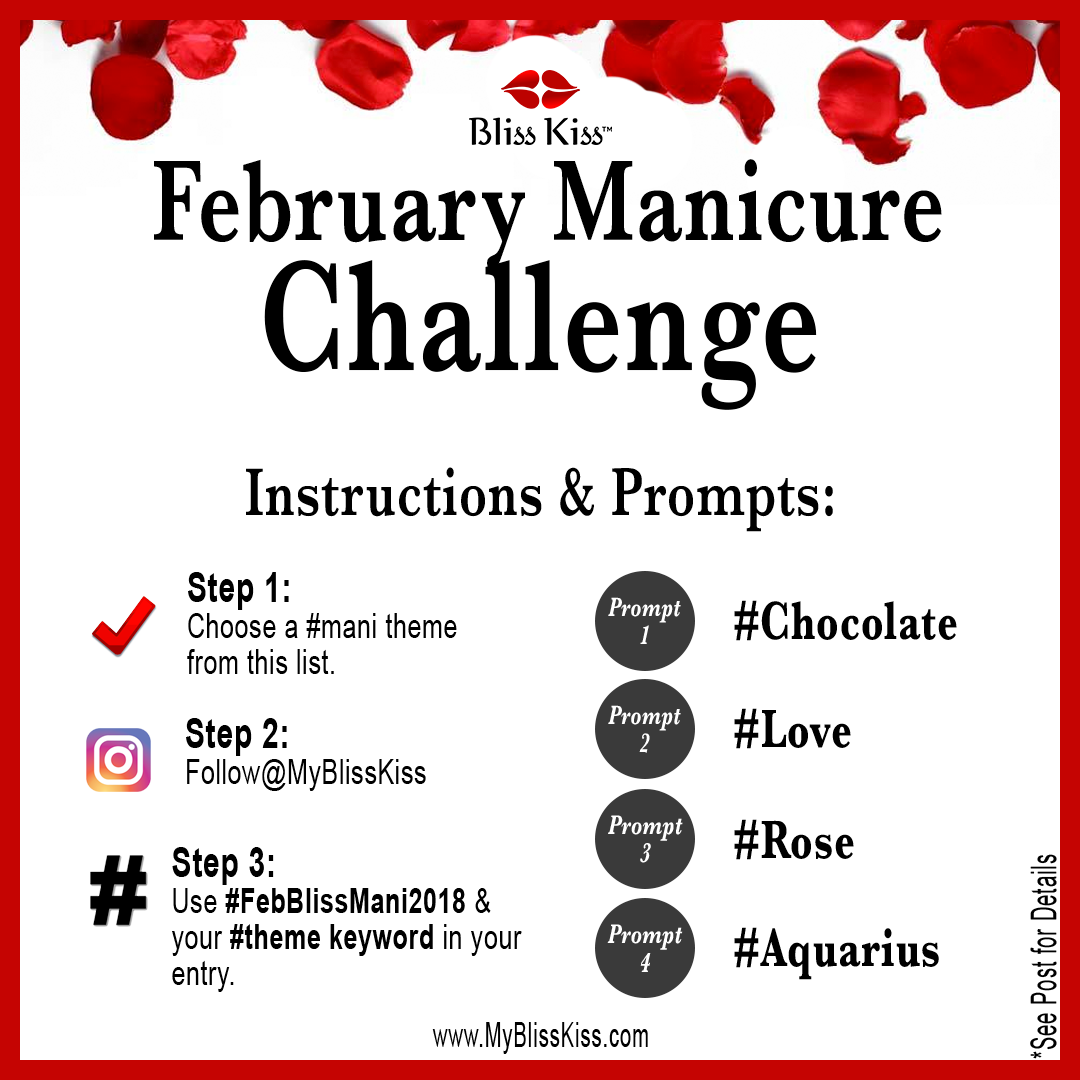 For February, we wanted to do some prompts that were not just about Valentine's day and romance because we get it. That's not always a part of everyone's life.

BUT, we DO want to invite everyone to celebrate LOVE. Friends, family, pets, hobbies... there are so many areas in life where we get to experience love. So let's celebrate it, wherever it shows up in your life. (Make sure and checkout our "My Sweetheart Learns" manicure challenge, too!)

What's in it for you? The joy of painting your nails in fun February themes with others in the nail art community. You guys have been CRUSHING it with your creative interpretation of these prompts. LOVE IT! Keep up the creativity!

PLUS... You can win BLISS BUCKS added to your Bliss Kiss™ account that go toward anything you want in the store!
---
THE PRIZE: Three $10 Bliss Bucks Gift Cards! We will be giving away 3 of these babies, so make sure and enter for your chance to win!

The lucky winners will get $10 added to their account in our Bliss Kiss™ Store to spend on any item in the store! No confusing coupon codes required. Yay! (It's easy and free to set up an account on our site. We will send instructions to the winners so they can claim their prizes.)

WHO: Anyone who wants to celebrate the month by doing some fun manicures for a chance to win BLISS BUCKS good toward any purchase in the Bliss Kiss store!

WHEN: February 1st - February 28th

WHAT: Paint one (minimum) Themed manicure from the prompts listed in the image above. If you want to do one every day... well, by all means, HAVE A BLAST! Just make sure and tag us.

Each mani you post and tag us in counts as an entry. You can enter as many times as you want until February 28th.
---
HOW:
Choose a mani theme prompt from the image above.
Follow @MyBlissKiss on Instagram.
Tag us and use the hashtags #FebBlissMani2018 the # for the theme you chose from the list.

WINNERS will be chosen randomly the first week of March after the challenge ends.

Repost this image and tag us if you're going to join the challenge! We look forward to seeing your works of art!
~Ana