SIMPLY SPOOKY STAMPING MANI CHALLENGE!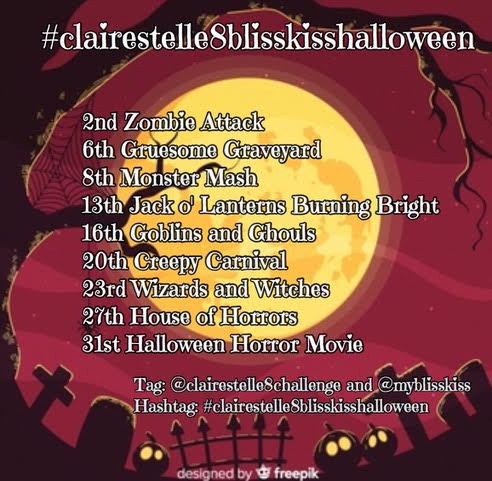 We are teaming up with the Stamping Goddess @Clairestelle8 for a super fun stampalicious mani challenge! Check out these fun Halloween-themed prompts! (Stamping is encouraged, but not required to participate.)

WHO: Anyone who wants a chance to win the NEWEST Bliss Kiss™ product: The Cuticle Care Combo Kit - (available now)!

3 Winners Will Be Chosen!


WHEN: October 1st - October 31st
WHAT: Any manicures from the prompts listed in the image above.


Don't have stamping supplies? Treat yourself to the tools and tricks of the trade and SAVE!
OCTOBER 1ST 7TH ONLY: Snag the Bliss Kiss™ Stamp & Scrape™ stamping and scraper set to get a 0.5 oz bottle of Simply Peel™ for 50% off!
EASY PEASY!
As always, there are no hard and fast rules. WE WANT YOU TO HAVE FUN, to be inspired, and to connect with other people in the community who are doing the challenge! If you miss a prompt, or are late or early for a prompt date, it really doesn't matter. For the chance of being featured, tag the feature page @clairestelle8challenge and @MyBlissKiss in your photos (as we might miss tags in the caption) and use the hashtag #Clairestelle8BlissKissHalloween.
Okay, time get your SPOOKY on and stamp it up! (Or paint or whatever suits your mani-fancy...Just remember to
Tag both @Clairestelle8 and @MyBlissKiss
Include the hashtag #Clairestelle8BlissKissHalloween.)
WOOHOO!
Other contest info:
1. Open internationally (Winners are responsible for any customs fees/taxes).
2. No private accounts (we can't see your entry). No accounts created just to enter giveaways.
3. Contest ends 10/31/2018 at 11:59 pm PST
4. No Drama! Be Nice!
5. 3 winners will be picked randomly the first week of November.
|
|
|
The promotion is in no way sponsored, endorsed or administered by, or associated with, Instagram or Facebook.