Product Description

What's Included?
Your order includes:
"Liquid gold" for your nails, cuticles, and skin in a convenient dropper.
Jam-packed with hydration mojo, you'll get longer, stronger nails, fewer breaks and tears, heal your cuticles and hangnails, and get the gorgeous nails you've always wanted.
Your skin and nails will soak up the golden goodness!
Handcrafted • Petroleum-Free • Dye-Free • Paraben-Free • Phthalate-Free
What Makes Simply Pure™ Different?
Simply Pure™ was one of the first nail and cuticle oils on the market to use pure jojoba wax ester as the primary ingredient, where most other cuticle oils use mineral oil, almond oil, or other fillers.
Jojoba the primary ingredient because it's the most important. With unique properties - including having an almost identical molecular structure as your skin's own natural oil - jojoba is able to penetrate your nails and skin to deliver its hydrating goodness.
But more than just being a hydrating wonder, jojoba also acts as a carrier. That means that other ingredients are able to "hitch a ride" so to speak as the jojoba is absorbed into your skin and nails.
This can be a great thing! Jojoba's carrier properties allows the other seven ingredients in our formula to join in the hydration party, enhancing jojoba's already powerful hydration superpower, giving you longer, stronger nails, healed hangnails, reduced appearance of wrinkles, and even relief from symptoms associated with skin disorders. It's that good!
Bliss Kiss™: Quality You Can Trust
At Bliss Kiss™ we only use the highest quality ingredients because it makes a difference in your results. We also use the highest quality ingredients because we genuinely care about what you're putting on and in your body.
This is particularly important because not all jojoba is created equal. The cheaper stuff you can buy at a beauty store or order on Amazon that don't give the same results you'll get when you use Simply Pure™ because quality matters.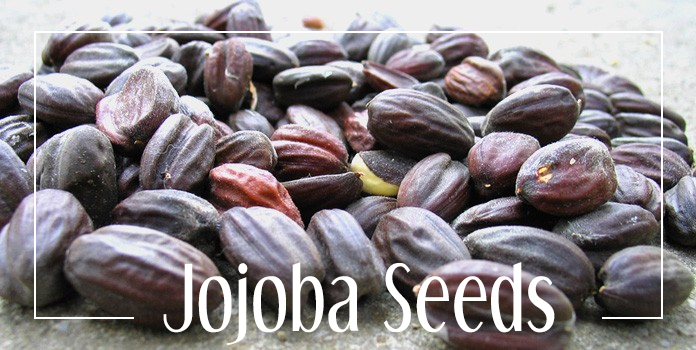 We get frequent emails and reviews from people who've tried just pure jojoba from other vendors who wanted to test and see if just any jojoba oil would work the same (including Ana's mom and best friend). The results? Simply Pure™ is simply better!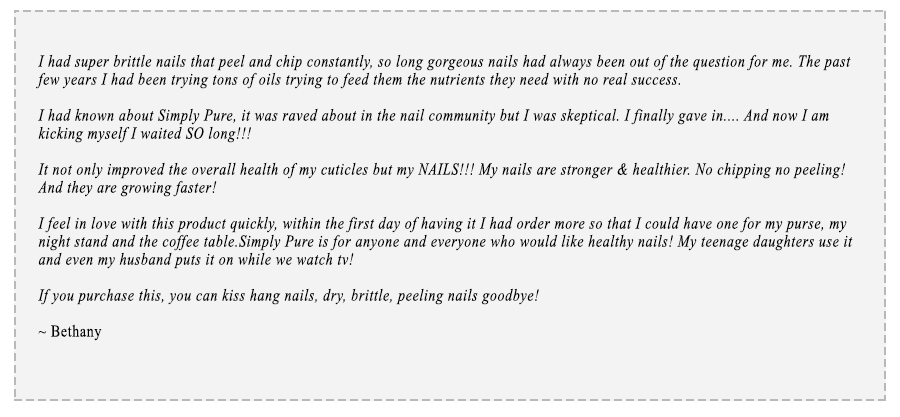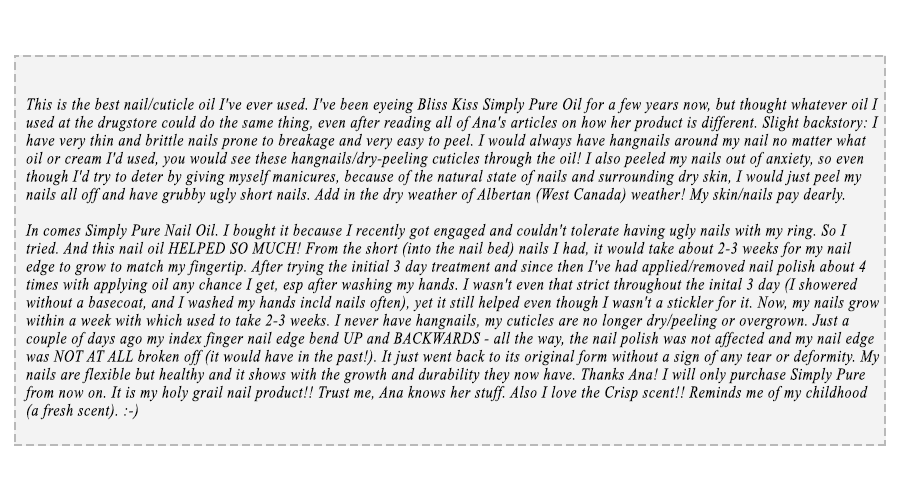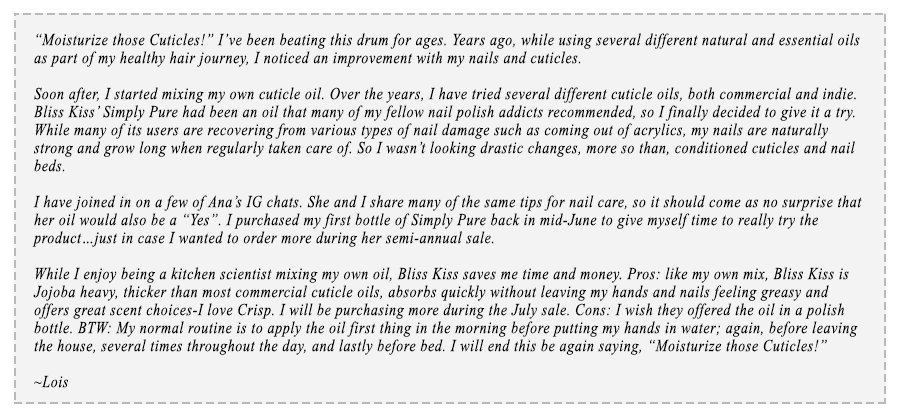 The jojoba we use in our Simply Pure™ formula is from a reputable grower with strict quality standards that match the strict Bliss Kiss™ quality standards.
Some jojoba farms use pesticides and other chemicals in growing the jojoba plants, which can leave residual chemicals during the extraction process that would be absorbed into your skin, reaching your bloodstream and the rest of your body.
The way jojoba is extracted can also affect the quality of the jojoba. The highest quality jojoba is extracted through a cold-press process that slowly applies heavy pressure to crush and press the jojoba seeds (instead of a chemical extraction process that requires extra processing and can leave trace amounts of chemical solvents in the oil).
The result of the cold-press process is the gorgeous wax ester (which is like a liquid wax) that is what gives Simply Pure™ it's "liquid gold" color.
At Bliss Kiss™, we only use jojoba that is
Pesticide free

First run, cold-press extracted

No fillers, solvents, or other additives
The same Bliss Kiss™ standards apply to the other seven ingredients in our formula.
Only the best for our Blissettes!
Will It Work?
Every order comes with a 100% Money Back Guarantee. But that's not enough. We've been bombarded with false miracle claims for decades. You need to see proof.
Fragrance Choices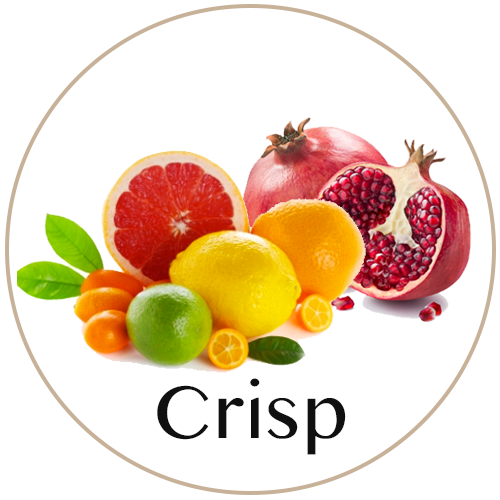 Crisp: An intoxicating and effervescent blend of lemon zest, pink grapefruit, juicy pomegranate and spiced vanilla embody the subtle freshness of Crisp™. We're pleased to be able to say that Crisp has a 99.9% LOVE rate among thousands of customers. Crisp fragrance is available year round.
---
Free: The same amazing oil minus the fragrance oil—for those with allergies to essential oils or have a history of allergies to skin care products. Fragrance Free is available year round.
---
Vanilla: A delicious, timeless classic. An addictive blend of sweet vanilla beans with the warm aroma of freshly baked waffle cone with a luscious creamy finish. Vanilla fragrance is available year round.
---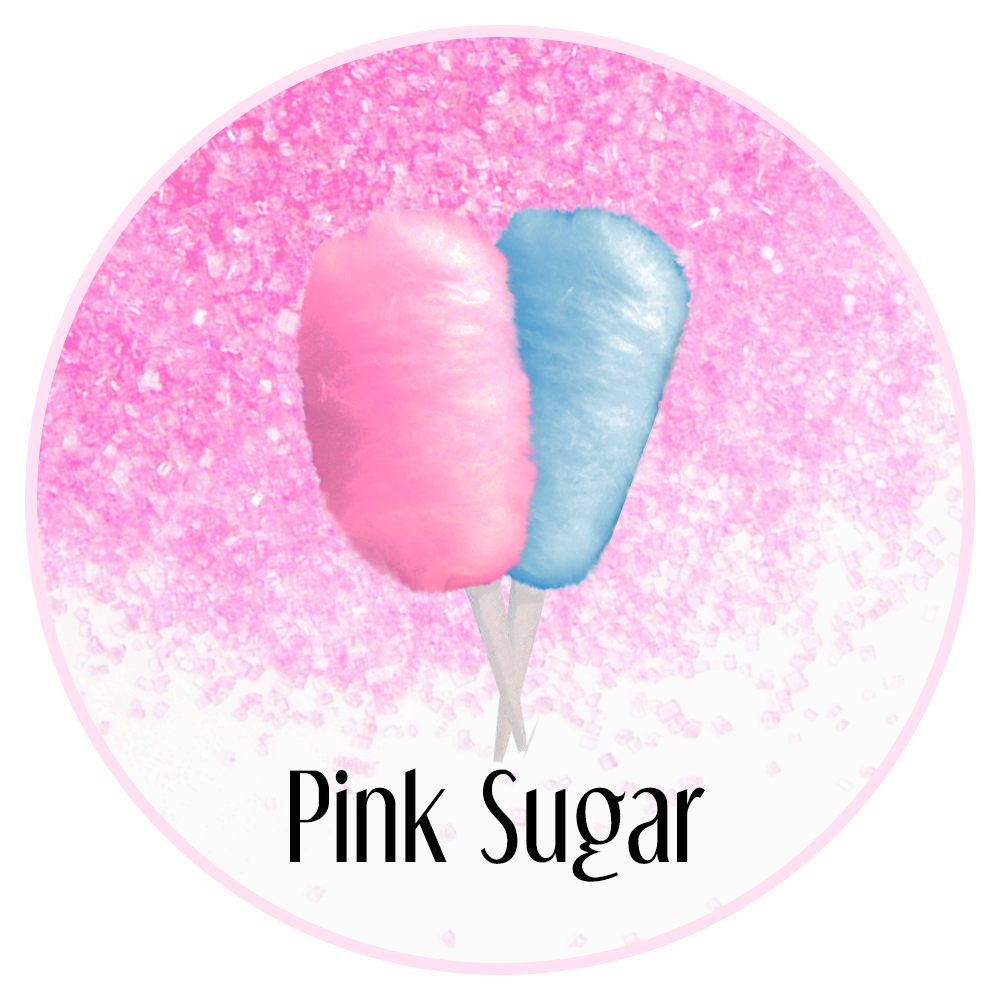 Pink Sugar: Pink Sugar is a stylish, but playful, fruity blend of cotton candy, caramel, vanilla, strawberry, fig leaf, plums, mandarin, lemon drops and raspberry. If you have a love of all things sweet, Pink Sugar scented Simply Pure Nail Oil™ will quickly become a favorite.
PS: Pink Sugar is really yummy smelling when mixed with our Crisp fragrance. Pink Sugar fragrance is available February 1st - June 1st.
---
Summer: Our new Summer fragrance is a delicious blend of warm, creamy coconut, sweet pineapple, with a tropical vanilla base. Use our Summer oil on your nails and you'll feel just like you are in the tropics! Summer Fragrance is available June 1st - September 1st.
---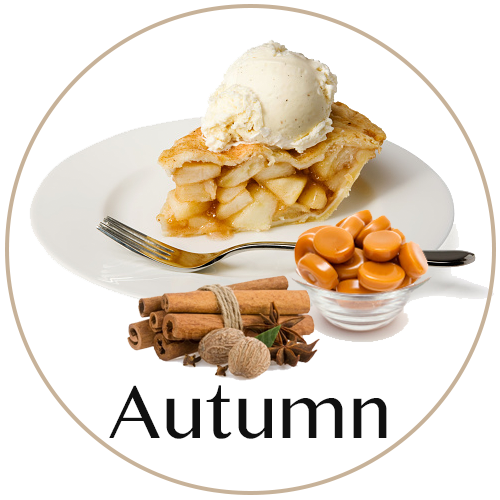 Autumn: Our Autumn Fragrance is a yummy blend of baked apples, vanilla, cinnamon, cloves, and nutmeg with a hint of sweet pumpkin bubbling in a flaky crust. Then top it with vanilla ice cream. There's nothing like fresh baked pie, and this new scent has captured just that! Autumn is a "slice" above the rest. Autumn fragrance is available September 1st - January 1st.
---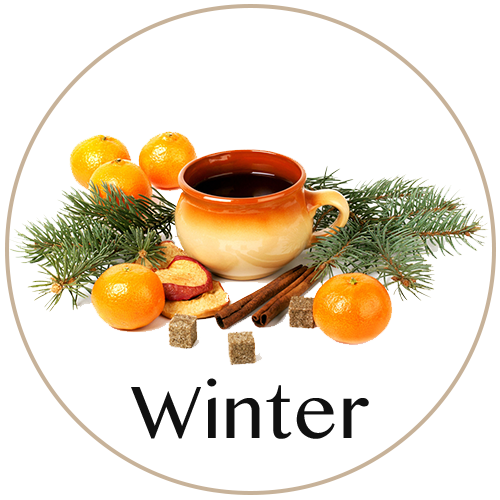 Winter: When you apply Winter Fragrance, you'll feel like you walked into a room filled with the aroma of a freshly cut Christmas tree and citrus mulled cider simmering on the stove. Winter fragrance is available November 1st - February 1st.
-Note- We recommend adding the scent samplers to your order so you can test the fragranced oils to see if you're allergic.
How Much Do I Need?
If you are just starting out with Simply Pure™ Hydrating Nail Oil, we encourage you to invest in our 4-Pen Starter Kit since you can use most of one pen's oil with the 3-Day Initial Hydration Treatment.
Your brain will remind you at odd times to oil your nails, and if your pen isn't close by, chances are you'll tell yourself you'll do it later… and later never comes because life gets busy. I do it, too!
When you have a pen in your purse, your desk drawer, near the television, and on the nightstand, you're going to set yourself up for nail hydration success! So make it easier on you to get the longer stronger nails you really want.
After the 3-Day Treatment, a pen will last 2 to 8 weeks depending on frequency of use.
Easy and Portable
Our Simply Pure™ hydrating nail oil pen gives you 1 easy-to-use and highly portable pen. Pretty soon, you'll want one in every room.
Simply remove the cap, twist the top until the tip is saturated with oil. Some people use 1 click per nail. Ana uses 3 clicks for 3 nails and then repeats.
Apply oil to skin and nails as often as you like — at least twice daily, and for best results, each time you wash your hands. With this convenient applicator, you won't spill a single drop.
WE SHIP MONDAY - FRIDAY (except holidays)
Product Videos
Custom Field
Simply Pure™
"Liquid gold" for your nails, cuticles, skin in 15 ml Dropper Bottle.
• Jam-packed with hydration mojo
, help heal your hangnails, calm eczema and psoriasis flare-ups, help your new tattoos heal, reduce nail peeling and breaks, and more!
Your skin and nails will soak up the golden goodness!
Handcrafted, Silicone-Free, Petroleum-Free, Paraben-Free, & Phthalate-Free
Product Reviews
116 Reviews
I've tried several different cuticle oils over the years and this one just really gives me the best results. Hang nails and dry, rough edges are gone. This oil makes it look like I've done serious cuticle work, when all I do is rub it in each night before going to bed. I stopped using this for a while to try some other brands, but now I'm back to stay. Thx for a quality product!

I have had problems with the side edge of my nails splitting for years. Since I started using this oil they have grown out and no more splits.

I've struggled with dry, cracked cuticles since I was little. In fact, I was on prescription cream for my cuticles/fingers when I was a kid. Nothing has ever worked for me until now. I still get the tough skin around my nails (recovered lifelong nail bitter & picker so the skin is permanently damaged and rough) but this oil does significantly make it better. This is the only reason why I no longer bite/pick my nails. I love the science, research, and data that backs up all of the Bliss Kiss products too. I am a google queen and they are the only company that I have ever found that delivers what they promise. It's not marketing fluff or over-promising. They have scientifically figured out how to hydrate the skin and nails. Brilliant! Your company is a rare gem in this world and I am a forever, lifelong customer.

Exckinellent product! After foolishly giving into "dip acrylic nails" my nails are thin peeling & trashed! I know from experience after a couple weeks using this miracle oil...all will be well again. Thank you!

I commented in the above review. The product is excellent!

Just another 5 star review!!

I have been using bliss kiss for about 7 years now. It's amazing. I love it, and it 100% makes a huge difference in the condition of my nails and cuticles. If I oil at least twice a day, I very rarely have any "cuticles" to deal with. It also helps with preventing hangnails like crazy. You will not be disappointed in this oil!! (Vanilla is my favorite fragrance, but they're all awesome)

Simply pure hydrating oil

I have used Simply pure hydrating oil for my cuticles and nails now for the past six months and my nails look great and are just starting to get strong thanks for all the tips simply pure I would highly recommend bliss kiss

I grew up with psoriasis (thank goodness I've outgrown it in adulthood). My deramtalogist told me that psoriasis can affect the nail bed and my nails were always brittle and peeling. I thought I had some kind of vitamin deficiency but once I researched it further, I realized my toenails didn't have the same issues so its likely another reason. But, what? I am so grateful I found this product. I've been using it for over 2 months everyday twice a day and my nails are so much stronger and they don't peel. Turns out, they just needed this product's star ingredient, job jobs oil. Thanks for putting that ingredient in an affordable and convenient vessel for total nail transformation. Btw, its not like I can grow my nails super long and not have them break or anything, but from what they used to look like to now, I don't even want to wear polish. They can breathe and look great.

Simply pure hydrating oils

Use them all the time. I bought 3 and will buy more when they're done

Like this as an alternative to the pen. The Vanilla smells amazing! Love it! Haven't tried refilling with it yet as I still have some in the Vanilla pen, but it looks straight forward!