Product Description
Get the Perfect Manicure Without All the Mess
Simply Peel™ Liquid Tape Latex Barrier
Each bottle is a glittery doorway to gasps and oohs-and-ahs from everyone who sees your gorgeous salon-quality manicure.
It won't just be your besties raving. Complete strangers will be impressed. Especially when you tell them you did it yourself!

Art can be messy. Now you can unleash your creativity and cut cleanup time.
Simply Peel™ sets the industry standard for protecting cuticles from the harsh, drying effects of nail art cleanup.
You'll just have more FUN when you let your inner creative goddess out to play!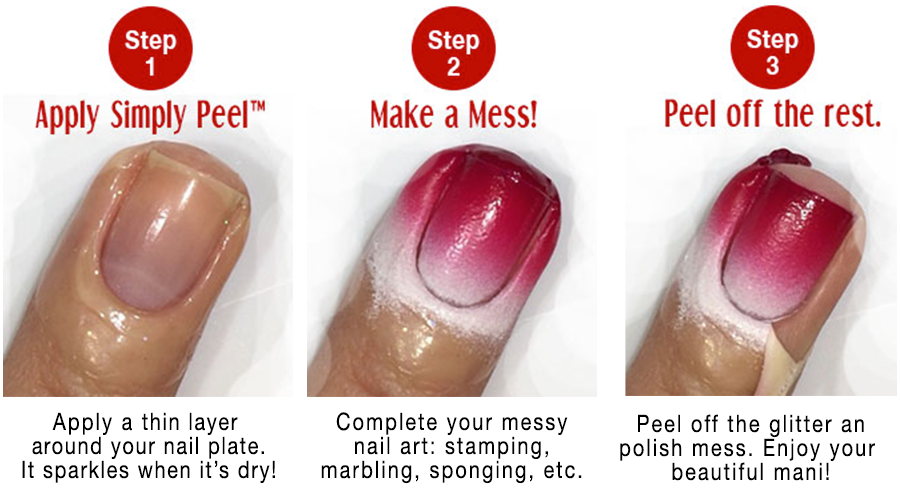 ---

You can read the story behind Simply Peel™ HERE.
Make Your Manicure Last Longer!
One of the secrets to getting your manicure to last longer is to remove the cuticle from your nail plate.
MYTH-BUSTING FACTS: We've been taught the incorrect definition for the "cuticle."
The tight band of skin at the base of your nail plate is NOT the cuticle. That band of skin is called the "Keratinized Proximal Nail Fold Tissue" or "nail fold."
The cuticle is actually the thin layer of skin that sticks to your nail plate and pulls away from your nail fold.
When you remove the cuticle from your nail plate, your nail polish will be better able to bond to your nail.
Base coat was developed to bond to your nail plate, not to skin. This means, when you remove the dead cuticle skin from your nail, your nail polish will be able to bond directly to your nail. And that's GOOD!
Remove Your Cuticles the RIGHT Way for Healthy Nails
It is extremely dangerous to cut proximal folds (cuticles) because they protect the nail matrix where nail cells are created.

Cuticle cutting, removing dead or live skin with a drill is also very dangerous.

AVOID from Dry Manicures/Russian Manicures.
The dead cuticle skin needs to be removed with the correct tools.
And that's EXACTLY what you'll get in the Cuticle Care Combo Kit!
How to Use Simply Peel™

to Remove your Cuticles
Ana searched for years for a solution to the strong, dissolving power of cuticle removers without damaging the skin around fingernails. And she finally found it.
Simply cover your skin with Simply Peel™ Liquid Latex Barrier Let it dry and then you are free to apply cuticle remover safely.
From Start to Finish
Apply Simply Peel™ to the skin around your nails and allow to dry. (See video below for tips on applying Simply Peel™)
Squeeze a tiny amount of Simply Gone™ onto your nail plate (about the size of the head of a quilting pin - remember, a little goes a LONG way) and use the tip of the bottle to carefully spread it over your nail. Repeat on all 10 fingers.

Simply Gone™ works fast. After you've applied Simply Gone™ to each of your nails, start back at the first finger you applied it to and begin to remove Simply Gone™. IMPORTANT: Do Not Leave On Longer Than 1 Minute.


Using a cuticle removal tool–gently, gently, gently–scrape back and stop right at the proximal fold. Glide the tool against the surface of your nail plate. The remover solution will have dissolved the cuticle so downward pressure is unnecessary (and too much pressure can bruise your nail plate or cause other damage).

The removed cuticle and cream will build up on the back of the removal tool. Wipe that onto a paper towel.

Once you are finished removing your cuticles from your nails, remove the Simply Peel™ and rinse your hands with water.
Check out the Bliss Kiss Cuticle Care Kit!
PLEASE NOTE: SIMPLY PEEL™ IS SENSITIVE TO COLD & HEAT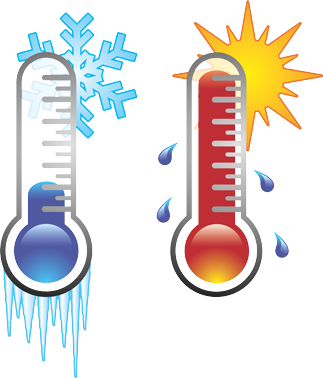 Simply Peel™ is a handmade, artisan product. Due to the nature of latex and other ingredients in this product, the glittery goodness inside the bottle on the way to your collection of nail goodies is sensitive to heat, cold, and extreme temperatures your bottle may experience during shipping.
If your bottle of Simply Peel™ arrives and has dried or thickened or has any other quality issues common in a handmade, artisan product. PLEASE LET US KNOW!
Simply contact us an immediate replacement will be sent at no cost to you.
---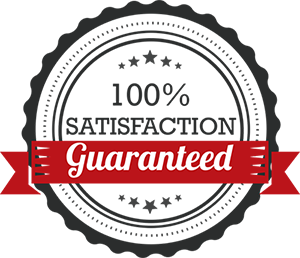 Every order of Simply Peel™ comes with a 100% Money Back Guarantee. But that's not enough.
We've been bombarded with false miracle claims for decades. You deserve a product that does what it promises.
We, at Bliss Kiss™, are confident in all of our products. And if you're not completely satisfied for whatever reason, let us know. We'll refund or replace your purchase. Period.
At Bliss Kiss™, we want you to have the beautiful nails you've always wanted.
Simply Peel™ has a 6 Month Shelf Life. Use it up!
---
Allergy Notice
Simply Peel™ DOES contain latex.
Please do not use if you have a latex allergy.
We want you to be healthy and safe!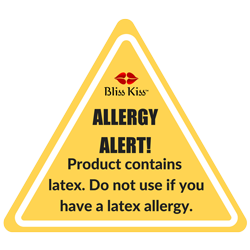 Custom Field
Simply Peel™ Like No Big Deal!
Liquid Latex Barrier
New Black Bottle
Protect Your Peel from Light to Extend Shelf Life
Make a Mess & Peel off the Rest
Get The Perfect Manicure Without All The Mess
Product Reviews
276 Reviews
I ordered this product in July and only got to use it twice. It is now all dried up and I'm 10$ out of the money I payed. ----Bliss Kiss Response---- Hi there! The shelf life of our Simply Peel is 6 months from the time of receipt. If you Peel dries out in that time frame, please contact us for a free replacement. -Bliss Kiss

Simply Peel Latex Barrier

I had to locate this product due to a nail demo. Its made nail care so much easier.

I absolutely love it♥️ it sure beats using tape

If you're not allergic to latex and you do nail art (or just like to peel glue off your hands) then this is for you! I origonally used the one in the squeeze bottle and had some trouble with that plus it made it easy for latex to get dried up in the tube. However with this bottle and brush it's less likely to get ruined and last you a while so long you close it properly. I kinda can't wait until they release a latex free alternative because then Bliss Kiss would be unstoppable

Love it! Dries very quickly and peels off in one piece. The bottle is a bit smaller than I'd like but it's still an amazing product

Simply Peel is so great! It peels off in one piece every single time and dries quickly. Only real flaw is that the formula is a bit clumpy, but it doesn't interfere with the overall performance of the product.

Great product! Arrived in no time- about a week and a half after the order was placed. Came in a perfect condition and does the work magically! Love it!

This liquid latex does it's job very well. My only complaints are that it smells like used cat litter and that it can be clumpy if you're not careful during application.

Great product, great customer service

Simply Peel works exactly as advertised. I love it! Even better was Bliss Kiss customer service. Someone stole my package off my porch (grrr!) and as soon as I contacted customer service, they sent me a replacement to my work address so it wouldn't get stolen again. So great! And now I'm having tons of fun doing gradients. ❤️❤️❤️