Product Description
NOTE: Due to COVID-19, we no longer have Pink gloves. All gloves will now be black. We are currently unable to get more pink gloves... BUT we have found some great, black gloves that will work just as well. Also, we have had to increase our prices due to cost increases for nitrile gloves.
You Asked, We Listened
We've had so many people asking for high-quality nitrile gloves that work well with Bliss Kiss™ products to help you get the most out of an Overnight or Mini Hydration Treatment.
We Found Some Great Gloves Just For You!
Benefits of Overnight Hydration
Your body heat helps warm up the oil so you absorb more.

Helps to hydrate both your nails and the skin on your hands.

Speed up the benefits of hydrating your nails (the FASTEST way to shortcut 3 Day Get Naked Challenge)
Here are some of the criteria Ana was searching for:
Sturdy. We tested a lot of gloves that would tear even when just putting them on. That was completely unacceptable.
So we didn't stop until we found gloves that are sturdy.
Flexible. These gloves are comfortable and will move with you.
Textured. You can still pick things up and go about your day/night with these gloves. (You can still text and use your SmartPhone while wearing them.)
Pretty. Yes. This is important! One of our favorite features of these gloves is the gorgeous pink with pearlescent sheen! *** SORRY! WE HOPE TO BE ABLE TO OFFER PINK GLOVES AGAIN AT SOME POINT IN THE FUTURE. ***
Strong Nails BEND, Not Break
Harder isn't stronger when it comes to nails. If you just have hard nails, your nails are more likely to break - the really kind of painful break, too.
The Strong Nail Solution
The fastest and easiest way to get longer stronger nails is to hydrate them. And the fastest way to hydrate your nails is with the Bliss Kiss™ Overnight Hydration process.
Here's how it works:
Give your hands and nails some hydrating TLC. Get your gloves and get your hydration on! We promise you'll be delighted with your results.
Make sure you've got your Simply Pure™ and Simply Sealed™!
What You Get
5 pair of Nitrile Gloves (10 gloves total)
P.S.
These gloves are latex-free, textured and give you a good grip, and work with smart phones and touch screens. You'll also notice how surprisingly thick and durable these gloves are, too! They are thicker than the most common nitrile gloves out there.
Sizing Help:

*If you are still having trouble deciding, always opt for the larger of the two sizes. Slightly loose is better than too tight!
The Results are Clear
Literally. You will likely see your tips turn clear after a hydration treatment. This is GOOD. Unlike tips clear from being soaked in water where your natural oils that hold the layers of your nails together get stripped away, clear tips after a Hydration Treatment indicate STRONG, FLEXIBLE, HYDRATED NAILS.
Here's what Ana says about clear tips after an Overnight (or mini) Hydration Treatment:
"The oil has penetrated all the way through and turned them transparent. If the transparency had been from water absorption, they would've taken an hour to dry out.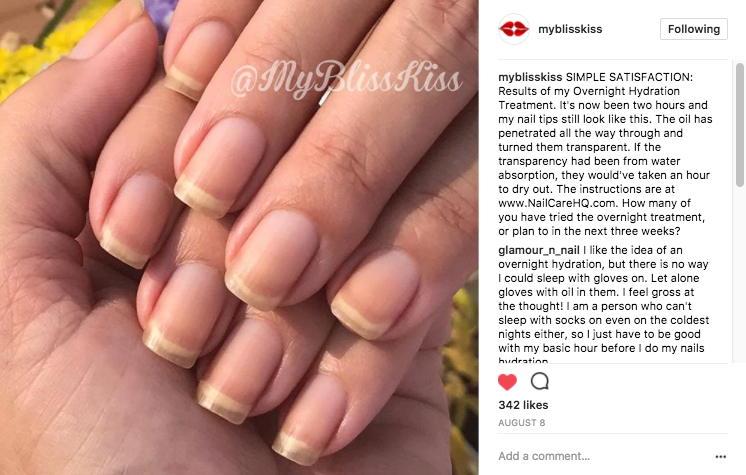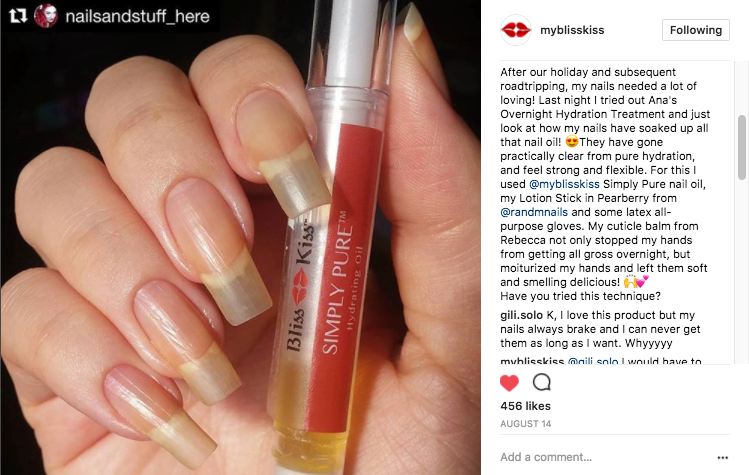 Some people are blessed with it... Now everyone else can get Blissed with it.
Product Videos
Custom Field
Product Reviews
6 Reviews
Great size, love black, pink ones look nasty after a few uses!

The first thing I noticed about the black gloves compared to the pink is that the black are much more durable. This is great because that means they will last much longer. While I miss the cute pink color of the old gloves I love how strong the black ones are.

I love these for doing a good overnight hydration every once in a while (especially in winter). They work with your phone, and they're cute!

I absolutely LOVE these!! My hands get so soft & recommend buying the feet ones as well!

The gloves are very smooth & soft the keep the oil and lotion in my skin I can't keep them on to long as I get irratation as I have eczema & it can flare up the medium size is best for me as the large ones are to big big the small would be to small but the medium ones are perfect fit.

I love this gloves so much! they are thicker than the normal ones and I'm not afraid of breaking them when I'm putting them or taking them out plus with the help of this my hands get super soft with the hydratation treatment.