Product Description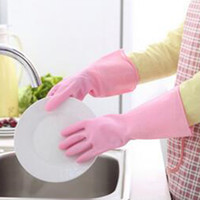 Clean Ones' Pure Comfort gloves are premium Household gloves—and they're also Ana's favorite!
Here's what Ana loves about these gloves:
They're comfortable - Let's be honest. Comfort is really important.
They're durable - They keep your hands and nails safe from water, chemicals, germs, and other messes that life throws your way.
Extra arm length - These pink beauties are extra long and keep your arms safe from those nasty dribbles.
Gripping power - Clean Ones work well for whatever task at hand. Dishes, gardening, scrubbing counters, floors, tubs, toilets... All the "dirty" jobs in life. These gloves will protect your hands and nails while you get stuff done!
Latex-Free - Perfect for sensitive skin, Clean Ones are latex-free and deliver the protection and tender loving care your hands deserve.
Odor-Free - This is the really great part about these gloves. Many cheaper gloves leave your hands smelling... well, funky. Clean Ones are specially formulated to keep your hands clean, dry, and smelling fresh, even after the BIG jobs.
Your hands take care of you and your loved ones. Treat your hands. Get them a pair of Clean Ones. You'll love them. Or your money back.
Product Information:
100% Latex Free Vinyl Gloves created by Clean Ones

Ultra Absorbent Hypoallergenic Lining for Sensitive Skin

100% BPA & Phthalate Free

Extra Thick 22mil Material for Added Protection (35% thicker than your average dish glove)

Non-slip swirl grip
Product Videos
Custom Field
Product Reviews
I actually look forward to doing dishes!

I've had my eye on these gloves for a while and have put off ordering them because I have a very well-known brand sold at the Container Store and I figured there was nothing higher rated that those. Boy was I wrong. I don't know what the inside is made of but its like soft fleece. I love wearing these! They aren't like traditional rubber gloves. They go on and off super easily. Anyone else hate putting on and taking off cleaning gloves...the worst because they stick to you! These do not do that. They are so comfy. My husband commented the other day saying "do you really wear those every time you do the dishes?" and I told him they were like Uggs for my hands. Definitely will be purchasing more!

I tried these for the first time today; love them! They are a nice thickness. They don't smell or feel like any other rubber glove I've tried. Once you slide your hands in them (they feel smooth and soft- and they're pretty), you won't want to take them off. They make housework feel a little bit glamorous! Will be buying more in the future.

Best gloves to clean I told my family and friends about it and they are planning to order them. Awesome